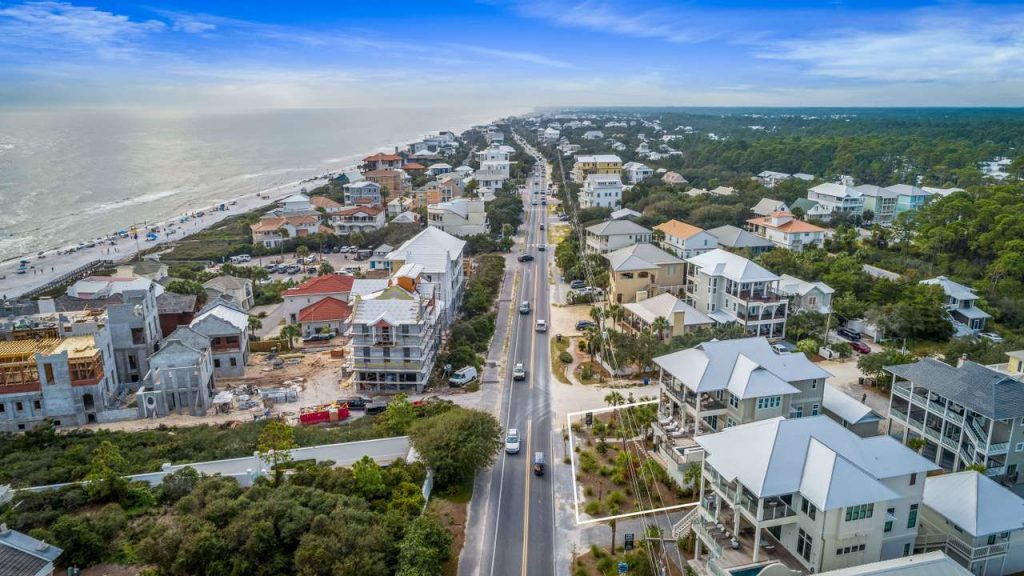 Rental Policies
Everything you need to know about your rented property. We look forward to the opportunity to welcome you to the beach!
The Rental Agreement (sometimes referred to herein as "Agreement") must be completed, signed and returned within 5 days from the Origination Date of the Reservation.
If not returned within the 5 day period the Reservation will be canceled and your money refunded minus $50.00. If the Origination Date of your Reservation is within 15 days of your Check-In Date, there will be no refund and your Reservation will not be honored.
PAYMENT 
1/3 of the total amount is due immediately to hold your Reservation and full payment is required 30 days prior to Check-In Date. At 30 days prior to Check-In we will charge your credit card for the balance due. If you are booking your Reservation within 30 days of the Check-In Date, then full payment is due at the Origination Date. The initial deposit is 50% refundable until the 30 day prior to arrival date. If the reservation is booked within 30 days to arrival, no refund will be available. 
FALSIFIED RESERVATIONS – ANY RESERVATION OBTAINED UNDER FALSE PRETENSE WILL BE SUBJECT TO FORFEITURE OF ADVANCE PAYMENT AND/OR RENTAL MONEY AND YOU WILL NOT BE PERMITTED TO CHECK IN.
CHECK-IN TIME
Check-In Time begins at 4PM Central Time. At that time the electronic door lock will activate. Due to our high standard of cleanliness, there is a possibility that all accommodations might not be ready at check in time. If your accommodation is not ready we appreciate your patience while we complete our cleaning process. There will be no discounts offered due to a late Check-In.
CHECK-OUT TIME
Check-Out time is 10AM Central Time. No late Check-Out. You must depart at the appropriate time. The electronic door lock will deactivate at that time.
CANCELLATION
If your Check-In Date is more than 30 days from your Reservation Origination Date you may cancel up to 5 days after the Origination Date of your Reservation with a minimal charge of $50.00. After 5 days from the Origination Date, Scenic Stays 30A, LLC will only issue a refund of 50% of the deposit at most. 50% of the deposit may be refunded until the 30-days prior to arrival date. Once within 30 days to arrival date, the reservation is non-refundable.
RED SKY TRAVEL INSURANCE GUEST PROTECTION PLAN
You are a valued Guest and we want to do everything possible to make your trip enjoyable and worry free. Because the unforeseen and unexpected can occur before you leave or when you're away from home we recommend Red Sky's Travel Insurance Plan. You can protect your valuable Reservation investment for only 6.95% of your total trip cost. By safeguarding your trip with Red Sky Travel Insurance, you will have coverage before you go, during your vacation and after you're home. With coverage for trip cancelation, trip interruption, travel delay, baggage and baggage delay, medical and dental expense, emergency assistance and transportation, accidental death & dismemberment, rental car damage and more, Red Sky's Travel Insurance plan can have you covered. Red Sky Travel Insurance offers a 14-Day Free Look from the date of purchase where you have the ability to cancel your coverage if you aren't completely satisfied as long as you haven't left for your trip or filed a claim.
Full details of the Red Sky Travel Insurance plan are available at this link: https://trippreserver.com/sun-trip-preserver/
Scenic Stays 30A, LLC offers Travel Insurance on every Reservation. Travel Insurance is highly recommended. If your Reservation does not already include travel insurance, you may choose to add it with the return of your Rental Agreement. The cost is 6.95% of your total trip. Once final payment has been made, you will no longer be able to add it.
HURRICANE POLICY
Should a hurricane or tropical storm threaten our area we will receive evacuation instructions from the National Hurricane Center and our local governing officials. If the Mandatory Evacuation order is given, refunds will only be given by Red Sky Travel Insurance if you have purchased coverage before the storm was named. Scenic Stays 30A, LLC will not issue refund of any rent payments.
SECURITY DEPOSIT
In lieu of payment of a Security Deposit, Guests shall supply a major credit card to be charged the cost of repair or replacement of items or other damage to the Rental Property caused by Guests or its invitees beyond ordinary wear and tear. As the Guest, you agree to reimburse the Owner for any damage to the Rental Property caused by you, your invitees, or others. Damages shall include reasonable attorneys fees and court costs incurred by Owner or Scenic Stays 30A, LLC as its Agent in enforcing this section.
You as the Guest shall be responsible for and assume all liability for damage, defacement, or removal of property inside or outside the Rental Property that is in the Guest's control, unless the damage, defacement or removal is due to ordinary wear and tear, acts of the Owner or Owner's Agents, or due to natural forces.
REPAIRS
All Properties are inventoried and inspected before and after Guest occupancy. We try to make sure everything is in good repair prior to your Check-In, but in the event there are any housekeeping, damage or maintenance issues, please report them immediately to avoid additional charges and to make sure your stay is enjoyable from the beginning. Properly working appliances, electronics, HVAC, elevators, etc. are not guaranteed. We do have a 24/7 helpline and repairs we are able to handle will be made as soon as possible as needed. No compensation or credit will be given for temporary outage of electricity, gas, water, cable, telephone, or other utilities. Outages should be reported immediately, and all efforts will be made to have them restored as soon as possible.
REFUNDS
Refunds of the advance rental deposit and/or the total rental fee (including fees & taxes) will not be given for late Check-Ins, early Check-Outs or inclement weather conditions.
SUBSTITUTION
Scenic Stays 30A, LLC properties are privately owned properties and subject to reasonable wishes of the Owner. Properties are occasionally removed from our rental program on short notice due to change in ownership or other changes made by the Owner or the properties may become uninhabitable due to unforeseen maintenance issues. Although we will do our best to fulfill your specific request, it is not guaranteed. At the time your Reservation is confirmed, we reserve the right to change the assignment to a comparable Rental Property. Should this occur to a confirmed Reservation, every effort will be made to contact you by telephone or e-mail to inform you of the need to change your Reservation to another suitable accommodation. Please be assured you will either be moved to a comparable Rental Property or upgraded, at our discretion, depending on Rental Property availability. In some cases, a comparable Rental Property may not be available due to the unique nature of the request (e.g. penthouse units); in which event Scenic Stays 30A, LLC may offer you the next best comparable Rental Property, reschedule your Reservation, or offer you a refund. No two properties are the same. Inventories and furnishings are subject to change without notice.
RULES AND REGULATIONS
AGE
We will not rent to anyone under 25 years of age unless accompanied by an adult guardian or parent who will be staying overnight, all nights, in the Rental Property with the occupants under 25 years of age.
UNLAWFUL ACTIVITY
Guests and any invitees of Guests shall obey all of the laws of the state of Florida and local laws, at all times while they are on the Rental Property including common areas of the resort. Failure to abide by the laws of the state of Florida or the rules incorporated herein, may cause Guests and invitees to be vacated from the Rental Property and forfeit all rents and security and/or deposits.
No underage drinking or partying is allowed on the Rental Property. If Scenic Stays 30A LLC is made aware of these activities, we will be forced to remove the Guests from the Rental Property. All rental payments and deposits will be forfeited. Guests and invitees in violation will be removed by local law enforcement or the security company employed by the resort.
NEIGHBORHOOD/HOA RULES
Most rental Properties are located within neighborhoods controlled by a homeowner or condo association. The associations have rules and regulations in place to keep all Owners and Guests safe, and these rules must be followed at all times. If you have questions, please contact Scenic Stays 30A, LLC to ensure compliance. If rules are not followed then the Guests will be responsible for actions and/or fines enforced.
PROHIBITED VEHICLES
The following vehicles are not allowed on the Resort Properties: RVs, motorcycles, trailers of any kind, unregistered, non- Property Owner golf carts.
SMOKING/PETS/GRILLING
All Properties are NON-SMOKING PROPERTIES. Violators will be charged a fine of $750. Pets are NOT PERMITTED in Rental Properties under any conditions unless Rental Property is designated as pet friendly. Violators will be charged a fine of $750. If a pet causes damage in a non-pet friendly Rental Property you will be held responsible for the cost of any damage caused by a pet. No gas or charcoal grilling allowed in Rental Property or on balconies unless Rental Property is designated for grilling.
POOL RULES
Please be advised that there may be a swimming pool and/or hot tub located in the neighborhood or on the premises of some of our rental properties. NO lifeguard/safety personnel are provided. Guests use the pool and other amenities at their own risk! Guests agree to indemnify and hold harmless Scenic Stays 30A, LLC and the Owner from any claim/loss or expense (including attorney's fees and court costs) by Guest or Guest invitees.
Diving or jumping into the pool or hot tub may result in head, neck, or spinal injuries. As the renter, you accept the risk of the pool and specifically agree that no minor will swim in the pool unaccompanied by an adult. Pool heat at private home pools, if it is available, is offered seasonally between October and Early May, however, pools cannot be heated if the temperature is below fifty two (52) degrees or above eighty (80) degrees. For an additional cost the pool can be heated. Pool Heat must be purchased for entire/duration of stay and will be billed at the time of request for units that have a heater. Please contact Scenic Stays 30A, LLC for details about the additional cost. Allow forty-eight (48) hours for pool heater to heat the pool water to the set temperature. Tampering with pool equipment may result in injury and/or a fine. All pool equipment must be operated by a licensed professional.
OUTDOOR POLICIES
Pool is to be used by registered Guests and Guest invitees only. No glass allowed in pool area. There are no pool hours at private home pools, however please be considerate of neighbors. Neighborhood pools will have rules posted with varying hours, and all rules should be followed. Please rinse off sand using outdoor shower before you enter the pool and when returning from the beach. Music volume must be kept at a reasonable level.
INITIAL SUPPLIES
Your Reservation includes a one-time linen and towel set-up, an initial set up of trash liners, bathroom paper, paper towels, hand soap, laundry and dishwasher detergent. We do not permit towels or linens to be taken from the Rental Property. Scenic Stays 30A LLC reserves the right to charge for lost or damaged linens.
BEACH TOWELS
Bring your own beach towels. We do not permit towels or linens to be taken out of the Property.
CHECK-OUT INSTRUCTIONS
To avoid additional charges upon Check-Out:
1. All garbage and debris must be removed from Property and properly disposed. (Be sure to follow neighborhood rules where applicable.)
2. All soiled dishes shall be placed in dishwasher and the dishwasher must be started (where applicable). Close and lock all outside doors and windows.
3. If you leave items in the Property and wish to have them returned you will be responsible for the shipping charges. Scenic Stays 30A, LLC is not responsible for personal items lost.
4. Please leave Property as you found it; excessive Check-Out cleaning may be an additional charge.
MISCELLANEOUS
AUTHORIZATION TO CHARGE CREDIT CARD
Scenic Stays 30A, LLC reserves the right to charge the credit card that was used to process this Reservation for any damage done to the Property, its contents, any items missing, and any fines incurred during your stay resulting from violation of rules.
PERMISSION TO ENTER PROPERTY
The Scenic Stays 30A, LLC agent or authorized persons, may enter the Property to make repairs.
AGENCY
Scenic Stays 30A, LLC is the Agent of the Property Owner and is acting at all times, in and for the best interest of the Property Owner and Scenic Stays 30A, LLC. Scenic Stays 30A, LLC will not be held responsible for acts of theft, vandalism, or damages to Guest's personal property.
SPECIAL EVENTS
Weddings and special events must be approved by the Owner and homeowner's association. A Reservation does not obligate the association to approve an event. Please contact Scenic Stays 30A, LLC if you need assistance with a special event. Guests shall not have parties or events at the home without obtaining prior written approval from Scenic Stays 30A, LLC. Weddings, cocktail parties, receptions, welcoming events, etc. may require Owner approval, payment of additional fees and an additional written agreement.
GUESTS
Please list the name of all Guests staying in the Property. If the Guest is under the age of 25 please list their age by their name.
HOLD HARMLESS
Neither Scenic Stays 30A, LLC nor Owner assume any liability for loss, damage or injury to persons or their personal property, nor for any inconveniences, damage, loss or injury arising from any temporary defects or stoppage in supply of water, gas, cable service, electricity or plumbing, as well as due to weather conditions, natural disasters, acts of God, or other reasons beyond their control.
ADDITIONAL TERMS AND CONDITIONS
The undersigned Guest, for himself/herself, his/her heirs, assignors, executors, and administrators, fully releases and discharges Scenic Stays 30A, LLC and Owner from any and all liabilities, claims, demands and causes of action by reason of any injury, loss or damage by whatever nature which has or have occurred, or may occur to the undersigned, or any of his/her invitees as a result, or in connection with the occupancy of the Property and agrees to hold Scenic Stays 30A, LLC and Owner free and harmless of any claim or suit arising therefrom. In any action concerning the rights, duties or liabilities of the parties to this Agreement, the principals, agents, successors or assignees of the prevailing party shall be entitled to recover reasonable attorneys' fees and costs, through all appeals. This Agreement shall be governed by and construed and enforced in accordance with the laws of the State of Florida. Scenic Stays 30A, LLC reserves the right to terminate this Agreement upon its discretion at any time. This Agreement may be signed electronically. This Agreement may be signed in counter-parts. Legible fax copies, scanned copies and photocopies of documents signed by either party are deemed to be equivalent to originals.
COMMENTS
Scenic Stays 30A, LLC reserves the right to edit comments on Website and all Social Media outlets.
BINDING NATURE OF AGREEMENT
All of the terms, covenants and conditions of this Agreement shall be binding upon and inure to the benefit of the parties hereto and their respective heirs, legal representatives, successors and assigns.
HEADINGS
Any headings used in this Agreement are for convenience of reference only and shall not be construed to alter or affect the meaning of any of the provisions. All references to the singular shall include the plural, and vice versa. The parties agree that this Agreement is the result of negotiation by the parties, each of whom was represented or had the opportunity to be represented by counsel, and thus, this Agreement shall not be construed against either party because of authorship.
TIME
All time periods shall be calculated in calendar days. Time is of the essence in this Agreement.
WRITTEN EXCEPTIONS
Any exceptions to the terms of this Agreement must be approved in writing in advance by Scenic Stays 30A, LLC.
SUBJECT TO CHANGE
Accuracy of printed, published or web-based material, including rates, outside of this Agreement are not guaranteed and are subject to change.
IMPORTANT INSTRUCTIONS AND SIGNATURES
I/WE HAVE READ THIS COVENANT NOT TO SUE, RELEASE, ASSUMPTION OF RISK AND INDEMNITY AGREEMENT, I/WE FULLY UNDERSTAND ITS TERMS, UNDERSTAND THAT I/WE HAVE GIVEN UP SUBSTANTIAL RIGHTS BY SIGNING IT, AND HAVE SIGNED IT FREELY AND VOLUNTARILY WITHOUT ANY INDUCEMENT, ASSURANCE OR GUARANTEE BEING MADE TO ME/US AND INTEND MY/OUR SIGNATURE TO BE A COMPLETE AND UNCONDITIONAL RELEASE OF RELEASEE TO THE GREATEST EXTENT ALLOWED BY LAW.
Minimum Stay Requirements: Some properties are subject to Minimum Length of Stay requirements in peak seasons. Unless otherwise noted, guests must abide by such requirements.
Property Assignment Policy: Scenic Stays 30A will reserve the property requested at the time of booking when the advance deposit is collected. In the unlikely event that the property is no longer available due to sale of the property or unforeseen maintenance problems, Scenic Stays 30A agrees to seek alternative accommodations that are similar to the accommodations previously offered, or a full refund of the funds collected. Scenic Stays 30A will assist in locating alternative properties, but is not responsible for extraneous costs outside of the original payments. Properties are furnished based on each owner's preference as indicated by the listing of each property. Guest preferences do not entitle them to a full refund.
Rates: Rates are subject to change during the booking process. We reserve the right to adjust rates that were quoted incorrectly due to human error or computer error.
Internet Policy: Guests are offered Wireless Internet at all properties for no additional fee. However, an unforeseen interruption in Internet will be corrected as quickly as possible. Internet interruptions are not subject to refunds.
Changes to Property: Once a reservation is confirmed, properties may not be adjusted without an additional fee.
Security of Personal Property: Scenic Stays 30A is not responsible for the security of personal guest items. Guests are responsible for the safe being and security of all personal items. Please ensure all doors are locked and cars are locked at all times.
Please take advantage of our local expertise by reserving a time to plan your experience with our experts today. We help coordinate rentals, reservations, experiences, grocery delivery and travel plans.