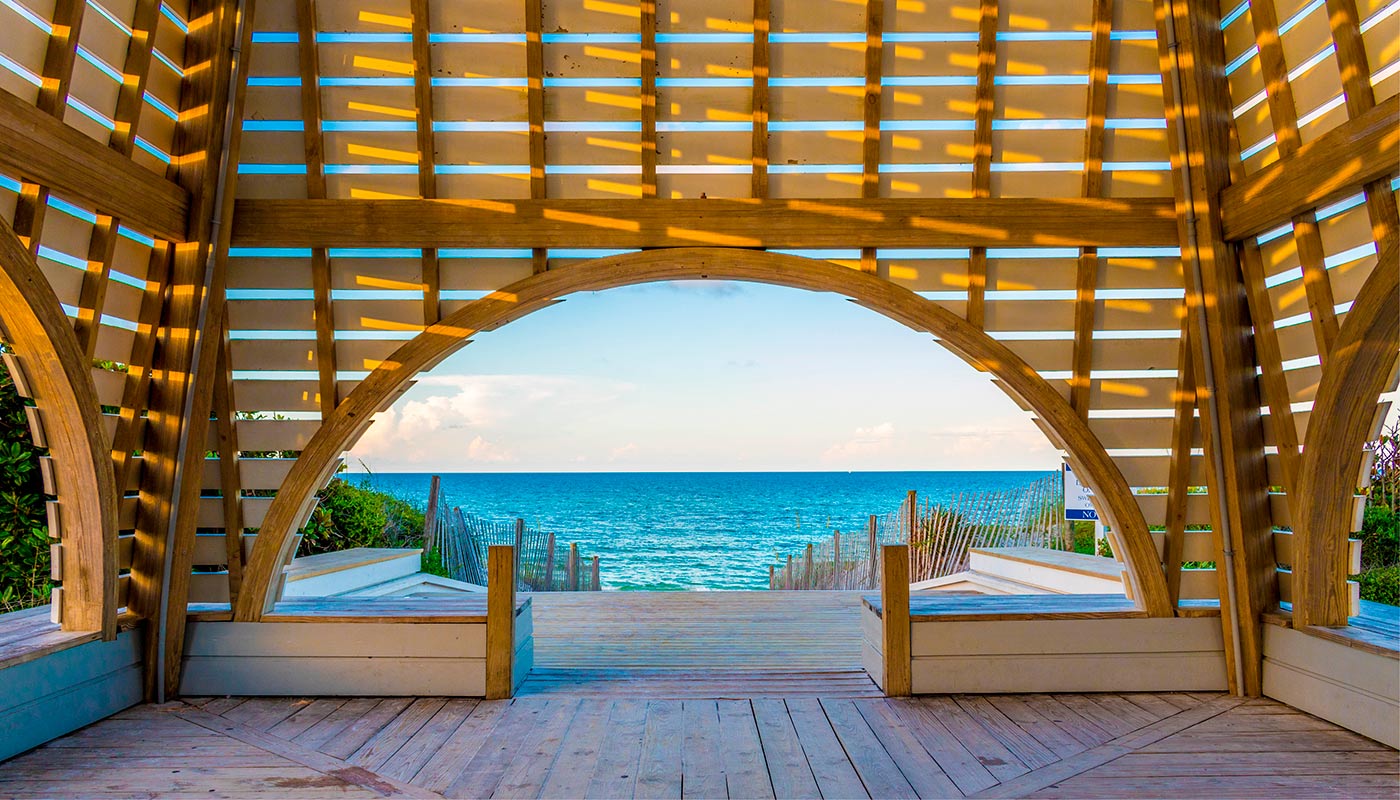 Destination: 30A, Florida
Welcome to Scenic Highway 30A in South Walton County, Florida! Here the residents are noticeably passionate about food, art, entertainment, and time spent outdoors. The "30A lifestyle" is more than just an attitude. It's a culture that extends through the many small communities dotted along the 26-mile stretch of white sand beaches bordering the Gulf of Mexico. Each town unique, each equally inviting, and all full of Southern hospitality.
The 30A corridor is conducive to an array of outdoor activities, whether taking a stroll along the beach, exploring the area's biking trails, or canoeing on one of the many small inlets. The boutiques are as unique as the dining, with little treasures hidden around every corner.
Where is 30A?
County Road 30A, or Scenic Highway 30A, or simply "30A", is a two-lane road located in the panhandle of Northwest Florida in South Walton county. Nestled between Panama City and Destin, the communities along 30A are unique and exceptionally picturesque, balancing natural landscapes like coastal dune lakes and state parks with stunning beach homes and low-density condominiums.
Getting to 30A is easy. Visitors from Nashville, Atlanta, New Orleans, and everywhere in between can find their way to 30A by car. Travelers will make their way to the I-10 corridor, then take the nearest local highway down to Scenic Highway 30A.
Traveling from further away, like Dallas or Chicago? Flying into a local regional airport and renting a car to your 30A beach vacation is a breeze. Just 30 minutes from Northwest Florida Beaches International Airport in Panama City and about an hour from the Destin – Fort Walton Beach Airport, you'll have your sand in the toes in no time!
Things to do on 30A
Can't decide what to do on your 30A vacation? The options are many! How about spending an afternoon on the fairways at one of two dozen golf courses in the 30A area? Or, rent a beach cruiser, stand-up paddleboard, or kayak, to get out on the water. Whatever you do, don't forget to explore South Walton's thriving art community, with galleries sprinkled across South Walton beaches.
Water Activities on 30A
With more than 50 beach and bay access locations in South Walton, it's easy to find your way to sugar-white sand and emerald green water. Swim in the Gulf, take a dip in a private pool or community pool, or explore one of the 15 named coastal dune lakes.
Family-Friendly Activities on 30A
The area has plenty of activities to keep the whole family entertained no matter what time of year your visit. Pack comfortable clothes, sunscreen, and get ready for sunny days outdoors.
30A Farmers Markets
Farmers' markets are a great way to sample the area's offerings, and South Walton has several filled with vendor booths and fresh fare. Two to try are the 30A Farmers Market and the Seaside Farmers Market for delicious farm-to-table goods. Additional farmers' markets pop up throughout the year, including those at Rosemary Beach and Grand Boulevard.
Timpoochee Trail
Walk, jog, or bike along the 19-mile Timpoochee Trail that extends between Dune Allen and Rosemary Beach. Explore the paved trail along the Gulf of Mexico with numerous beach access points along the way. Pack a picnic and bring your suits for a fun-filled afternoon!
Point Washington State Park
Point Washington State Park is a 15,000-acre park with 27 miles of trails. Hike, bike, or explore the three trail systems on horseback. The park features three, five, and a half, and 10-mile loops with trailhead access and parking on County Road 395.
Where to Eat on 30A
Mix a community of creative individuals, an emphasis on locally sourced ingredients, and a drive to create unique, flavorful cuisine, and you're bound to end up with something special.
Here are some of our favorite 30A restaurants:
Blue Mountain Beach and Gulf Place Restaurants
Grayton Beach Restaurants
Watercolor and Seaside Restaurants
Seagrove Beach and Watersound Restaurants
Seacrest Beach, Inlet Beach, and Rosemary Beach Restaurants
30A Vacation Rentals
30A Beach Homes
Known for its unique communities, each with its own personality and design aesthetic, one of the best things about staying on 30A is the wide selection of beach homes. Find a style that suits you among 30A's 16 beach communities.
Book your 30A beach home today.
High Pointe Beach Resort
Featuring upscale 2- and 3-bedroom condos with views of the Gulf of Mexico, a resort-style pool, and much more, High Pointe Beach Resort is perfect for your next beach vacation.
Book your High Pointe Beach Resort condo today.
One Seagrove Place
One Seagrove Place is an upscale and amenity-filled Gulf-front resort, boasting private Gulf-front balconies, a heated pool, a lighted tennis court, and fitness facilities.
Book your One Seagrove Place vacation condo today.
30A Events
The foundation of the 30A lifestyle is rooted in the great outdoors, and we encourage you to get out and enjoy!
For additional activities, check out daily happenings for all things on 30A.
30A Weather
Weather along 30A is very mild throughout the year, cooling off late fall through early spring. Daytime temperatures vary from sixty to eighty degrees, with nighttime temperatures rarely dipping below forty degrees even during the coldest months. Rain showers are typically short-lived and intermittent, rapidly clearing away for sunny skies and outdoor play.
Although the beaches are what draw many to the area, it's the 30A community that keeps them coming back. If this is your first trip, we're confident it won't be your last!