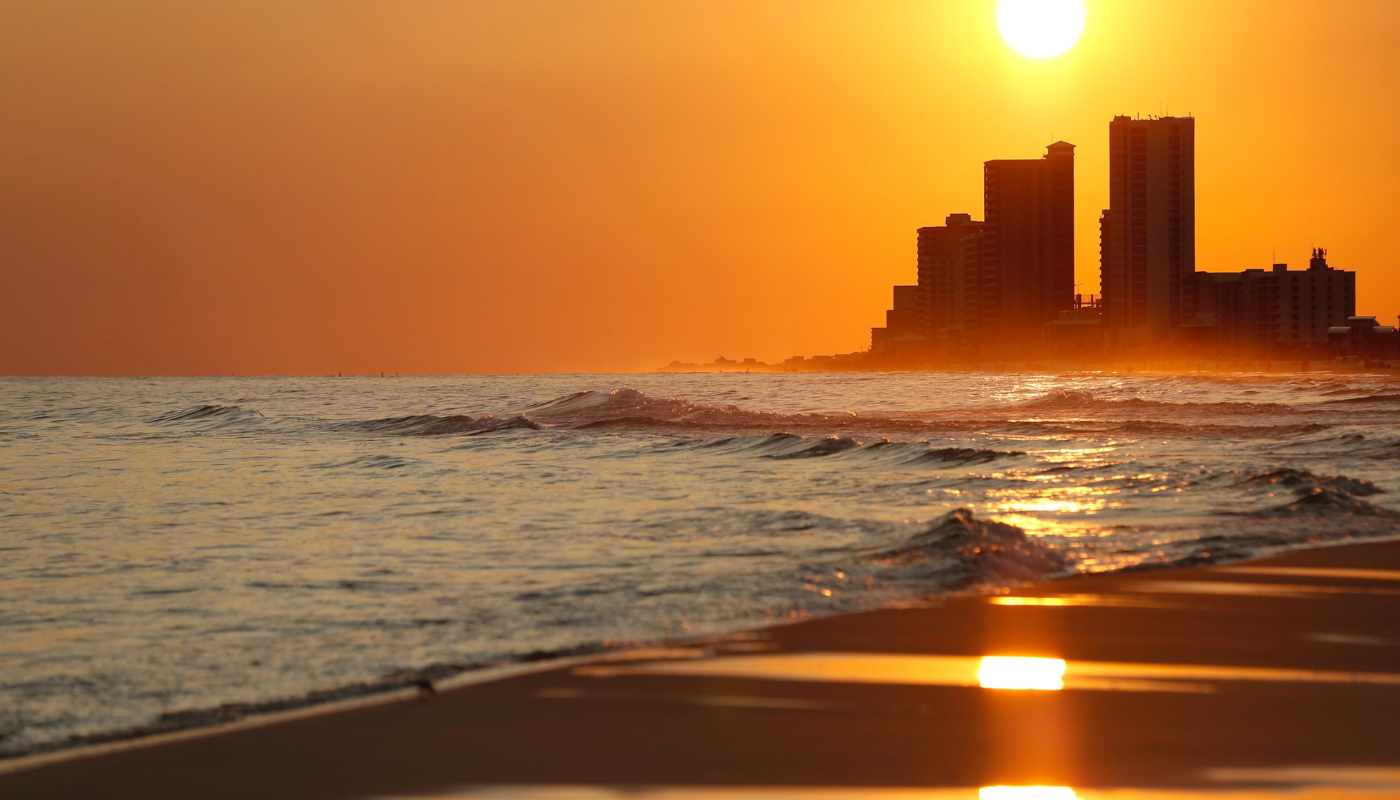 Destination: Pensacola, Florida
Destination: Pensacola, Florida
Embrace the magic of Pensacola, where sun-kissed beaches merge with metropolitan life in this charming coastal community, ideal for couples, families, and groups of all sizes. Beyond pristine shorelines and glistening waterways, the "City of Five Flags" boasts a thriving urban center bursting with art, culture, and history. A diverse community with plenty to see and do, this historic town offers outdoor activities, cultural experiences, and the perfect blend of relaxation and adventure.
Why We Love Pensacola, Florida
Founded in the mid-1500s, Pensacola is one of the oldest towns in Florida. Five governments ruled "America's First Settlement," as evidenced by local architecture and cuisine. Pensacola is a city rich in history, with lumbering, commercial fishing, naval aviation, and tourism as just a few industries serving the city's economy over the years.
Known as the "Western Gate to the Sunshine State," Pensacola offers awe-inspiring natural beauty, cultural encounters, and recreational activities, promising a multi-faceted and enriching experience for all ages.
Where is Pensacola?
Pensacola is the westernmost city in the Florida Panhandle, located between Mobile, Alabama, and Panama City Beach. Located on the north side of Pensacola Bay, Pensacola is a three-hour drive from Montgomery, five hours from Atlanta, and four hours from New Orleans.
Serviced by major airline carriers, including Southwest, Delta, American, and United, flying into the area's regional airports is a breeze. Pensacola International Airport offers over 1300 domestic and 21 international flights via six major airlines. Destin-Fort Walton Beach Airport is another option, a little over an hour away, and Northwest Florida Beaches International Airport is about two hours away in Panama City Beach. Additionally, Destin Executive Airport is situated in the heart of Destin, about an hour and a half away, and is available for chartered flights.
Things to do in Pensacola
Pensacola promises an unforgettable experience filled with endless exploration. Fishing, swimming, snorkeling, boating, and biking are all favorite outdoor pastimes here. Visitors also enjoy browsing the boutiques and shops on Palafox Street, listening to local bands in Seville Quarter, and grabbing handmade crafts and local produce at the Palafox Market.
Water Activities in Pensacola
Surrounded by over 50 miles of coastline, crystal clear bay areas, picturesque bayous, and the Gulf of Mexico provide plenty of opportunities to get on the water, whether on a pontoon rental, dolphin cruise, or Bay excursion.
Pensacola Beach
Resting on the Gulf Coast barrier island of Santa Rosa, Pensacola Beach offers expansive white-sand beaches with plenty of room to spread out. After lounging on the beach, hit the Pensacola Beach Pier and watch anglers reel in their catch, then enjoy lunch and shopping at the Pensacola Beach Boardwalk nearby.
Gulf Islands National Seashore
The Gulf Islands National Seashore is an undeveloped and protected stretch of pristine shoreline along the Gulf of Mexico comprised of beaches, historic fortifications, and nature trails. A national park welcoming more than 5 million visitors annually, these barrier islands, coastal marshes, and maritime forests offer peace and solitude away from busier activities.
Check out Fort Barrancas while there, built to defend the area from the early 1800s through WWII; this historical site offers guided tours and exhibits showcasing its rich history and significance.
Family-Friendly Activities in Pensacola
From landmark tours and segway excursions to engaging museums and delightful parks, Pensacola offers fun, educational, and affordable outings, regardless of season or budget.
Historic Pensacola Village
Historic Pensacola Village provides a comprehensive overview of the community's history. Encompassing over eight acres in the walkable downtown area and featuring dozens of tourable sites, browse the Museum of History, the Museum of Art, the Children's Museum, and more while interacting with costumed interpreters providing engaging tales of the past. Whether viewing Victorian homes or learning about Pensacola's milling industry, self-guided museums and historic tours bring past eras to life in a fun and engaging way.
Fort Pickens
Built after the War of 1812 to protect Pensacola, Fort Pickens is the perfect spot for exploring. Tour the Civil War-era fort with mounted canons and its maze of arched tunnels with a ranger or traverse solo via a mobile app. A seasonal tram makes the tour fast and fun; offering stops at the Discovery Center to view exhibits and the park store for souvenirs.
National Naval Aviation Museum
The National Naval Aviation Museum celebrates Pensacola's proud military heritage and is a must-see for history buffs. View air and spacecraft exhibits and naval aviation history artifacts, providing a glimpse of Pensacola's maritime history. Flight simulators, cockpit trainers, and a giant screen theater make the experience fun and interactive for the kids. Plan your visit around the Blue Angels practice schedule, renowned for thrilling precision flying performances and a definite must-see at least once.
Where to Eat in Pensacola
Find Pensacola's vibrant food scene in lively eateries and downtown cafes, offering a delicious mix of fresh, locally sourced seafood and seasonal delights, with a few worthy of mention:
Pensacola Events
Whether enjoying monthly Gallery Nights or Bands on the Beach, you'll always find something to do in Pensacola. We hope you catch one of our signature events in the "Festival City of the South" during your travels.
Spring and Early Summer Events
Crawfish take center stage at the Pensacola Crawfish Festival, as do zydeco bands, ice-cold beer, and a crawfish eating contest, or challenge yourself with thousands of others at McGuire's 5K Prediction Run. The event culminates in a festive post-run party with Irish music, cuisine, and a commemorative tee shirt.
The Flora-Bama Interstate Mullet Toss is a legendary beach party celebrated for one reason – to see who can toss a dead mullet the furthest over the Florida/Alabama state line. A full bar on the beach means you won't have to travel far for cold refreshments, and prizes for all ages make it fun for everyone.
Fall and Winter Events
The Pensacola Seafood Festival promises arts, crafts, entertainment, and the perfect opportunity to sample gumbo, crab cakes, jambalaya, etouffee, and more. The Frank Brown International Songwriter's Festival is an excellent way to hear live musicians and personal stories about some of your favorite tunes. Featuring over 200 nationally acclaimed songwriters, enjoy smooth jazz, soulful blues, and more in various Alabama/Florida Gulf Coast venues.
The Great Gulf-Coast Arts Festival brings in over 200 artisans showcasing pottery, jewelry, painting, and more while featuring live music and delicious eats in a beautiful setting. The Foo Foo Fest is a beloved festival celebrating the local arts community and ideal fall weather. A few things to expect at this 12-day celebration include local talent, new art, and Southern cuisine.
The Pensacola Interstate Fair brings rides and top entertainers for a festive 10-day event, while Pensacon features an explosion of science fiction and fantasy programming in numerous downtown venues. Drawing over 25,000 attendees and featuring over 100 media guests, the comic book convention continues to grow each year. Wrap up the holiday season at Winterfest, a fun celebration featuring live performances, holiday trolley tours, and photo ops with a rotating cast of holiday characters.
Pensacola Weather
With pleasant and warm days, Pensacola offers the perfect escape for beach lovers and outdoor enthusiasts every season. Average summer highs are in the upper 80s, while the coolest nights during winter range between the low 40s and 50s, making every day ripe for exploration.
With its friendly locals, historic cultural scene, and captivating coastal playground, Pensacola promises an unforgettable experience year-round.
Book your Pensacola, Florida vacation today!