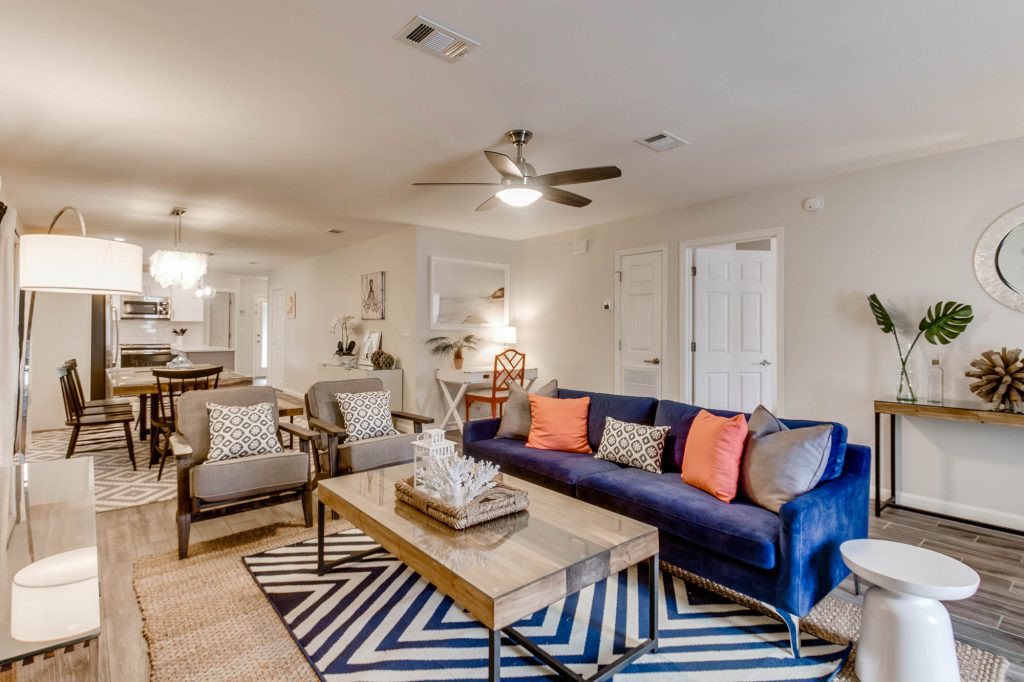 Our Commitment to Housekeeping
A big part of ensuring our guests have a fantastic vacation along the beautiful beaches of Destin and 30A is by putting in the leg work (and elbow grease) before your arrival! A clean place to relax and unwind is absolutely essential for a fabulous vacation. At Scenic Stays, we are committed to providing the highest standards of cleanliness. And since COVID-19 first started impacting us in early 2020, we've elevated those standards.
You can rest assured Scenic Stays will provide sanitized accommodations for your safety and comfort. It is important to us that you can enjoy your vacation with peace of mind.
Here's what we are doing to ensure your safety when staying at a Scenic Stays property.
Housekeeping Standards & COVID-19 Sanitization Precautions
The following items outline our housekeeping standards, as recommended by the CDC, to prevent the spread of COVID-19.
All housekeepers and inspectors are trained in CDC cleaning procedures and wear protective gear, including face masks when cleaning all units.
To create an extended disinfection period between departures and arrivals, our team arrives at each unit within three hours from guest departures and sprays hospital-grade disinfectant, a CDC-recommended cleaning agent, killing up to 21 germs and viruses.
A qualified housekeeping inspector inspects every unit before your arrival to ensure every item on our extensive housekeeping list is addressed. Additionally, the inspector disinfects door handles, light switches, and anything else touched during the inspection.
All surface areas in every unit are cleaned with hospital-grade disinfectant, which sits on surface areas for 10 minutes prior to removal, a requirement to ensure its effectiveness.
Our housekeeping team places an increased emphasis on regularly touched surfaces, such as door handles, cabinetry. High touch items are cleaned thoroughly prior to arrival.
All linens, bedding, and towels are removed, sanitized, and professionally laundered before your arrival.
Backup blankets and comforters are placed in sealed bags and stored in closets.
Protective pillow covers are cleaned and sanitized for additional protection.
Regularly touched areas in our common spaces are cleaned with hospital-grade disinfectant, a CDC-recommended cleaning agent. We have also increased the frequency of cleaning these areas from 2 times a day to 5 times a day.
How You Can Help
While our housekeeping procedures follow the recommended CDC guidelines, our guests should consider the following for added precaution when staying with Scenic Stays.
Continue to practice social distancing, maintaining six feet of space between yourself and others.
Wash your hands often with soap and water for at least 20 seconds before rinsing.
Use hand sanitizer throughout the day, and ensure it contains at least 60% alcohol.
Wear a cloth face-covering in public, such as grocery stores, gas stations, and other highly active areas.
Disinfect your unit during your stay. Just as you would wipe down a counter after dinner, clean and disinfect touched surfaces throughout your stay. As Scenic Stays does not provide daily housekeeping, we ask that you bring disinfectant to keep your unit clean as you would your own home.
Depending on your comfort level, feel free to bring your own pillowcase.
We're Here For Good, Clean Fun
When it comes to vacationing, know that Scenic Stays is all about good, clean fun. We're here to help you create beach memories of a lifetime and stay safe while you do so. If you have additional questions about our housekeeping procedures, please call us at (850) 390-7511.